Partners
Please find a few of our partner profile mentioned below.
Innovation and Leadership Expert – Mr. Nitin Mukadam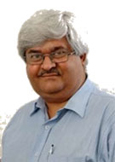 Nitin Mukadam is a veteran marketing, communications and new media professional with over 33 years of varied experience. . He started his career with manning a tube-well digging rig and moved on to become CEO for 7 companies. His forte is strategy and change management in the context of new technologies, particularly IT and online technologies.
Since 1996 he has been self-employed as a corporate strategy adviser, an expert in online business processes, a corporate trainer in a vast range of topics (but focused on marketing, communications, innovation and team building), a management school teacher (he has taught, and continues to teach, at several top management and communications institutes) and an author (he writes on marketing, new media and architecture). He was hand-picked as CEO for a BPO business that he successfully converted to a KPO in marketing research. He has had extensive exposure to dot coms, and has written many business plans, achieving VC funding in two cases of $ 3.5 million and $ 15 million respectively. He had extensively networked with global VCs in the course of extended stays in New York, Toronto and London.
He was an advertising professional from 1980 to 1996. During this stint he has handled over 200 brands, has been on the agency and client side, has headed 6 teams (including three built from scratch), and has led a team to win the largest prize money public service campaign contest. He has recently conducted corporate training programs for Mumbai International Airport Ltd., AdFactors PR, and Dachser India (the merged entity that was earlier AFL). He has addressed seminars on related topics at BARC, Bharat Petroleum and Podar World College. He has been an invited speaker at NASSCOM, TiE and other industry forums.
Communication Specialist – Ms. Beena Menon

Beena Menon has worked with various corporates for over 19 years. She started her career as a software professional, developing customized software solutions for clients in India and abroad. She has held various responsibilities - Project Manager, Business Analyst and Client Manager. Subsequently, she has gone on to become a Corporate Trainer with a specialization in the area of 'Business Communication'.
She has covered a wide gamut of issues in communication in the course of her training, right from 'Basic Business English' to the role of communication and its complexities in 'Inter-Personal Relationships', 'Performance Counseling' and 'Customer Relationship Management'. An avid free-lance writer for several years, writing travelogues and designing web content, she also coaches people in 'Effective Business Writing' & 'High-Impact Presentation Skills'.
She has worked with middle and senior-level managers in several organizations like L&T, I-Flex Solutions, Cap Gemini, Datamatics, Raymonds and Nestle India, and has had long-term assignments with corporate like The Aditya Birla Group and PriceWaterhouse Coopers.
She also has over 4 years of experience working with several management schools as a visiting faculty, training students in 'The Influencing Power of Communication', which focuses on bettering the chances of selection during Interviews and Group Discussions.
Executive and Leadership Coach – Mr. Shyam Malhotra

Shyam is now an executive & business coach, mentor and self development guide with thirty plus years as an organization builder. He also advises and comments on the media, telecom and IT industries in India.
Shyam's coaching blends 30 plus years of corporate experience, a passion for working with people & a process driven approach. He works with organization builders to support their career & life goals. He assists them in managing conflicts, on the go transition, execution excellence and other contemporary challenges by aligning their individuality with their organizational context.
Shyam has over 750 hours of coaching experience with middle to senior level executives since 2007. He is a Professional Certified Coach (PCC) with the International Coach Federation (www.coachfederation.org) the world's foremost coach credentialing agency. He is also a Certified Life Coach (coachforlife.com) & an accredited administrator for the MBTI suite of instruments. He conducts programs like "The Coaching Manager", "Harnessing Peer Power", "Delegation that Works", "Communication that Works", and "Feedback for Change".
Representative Engagements
Worked with the President / CEO levels
Worked with partners at Deloitte under their Global Lead Client Partner Program
Coached with senior leadership team at HCL Technologies (one of India's Top Technology companies) as a part of their Leadership Development Program
Worked with senior VP at Microsoft India for transition to the CEO role
Coached marketing professional reporting to CEO at Whirlpool for transition to Global Role