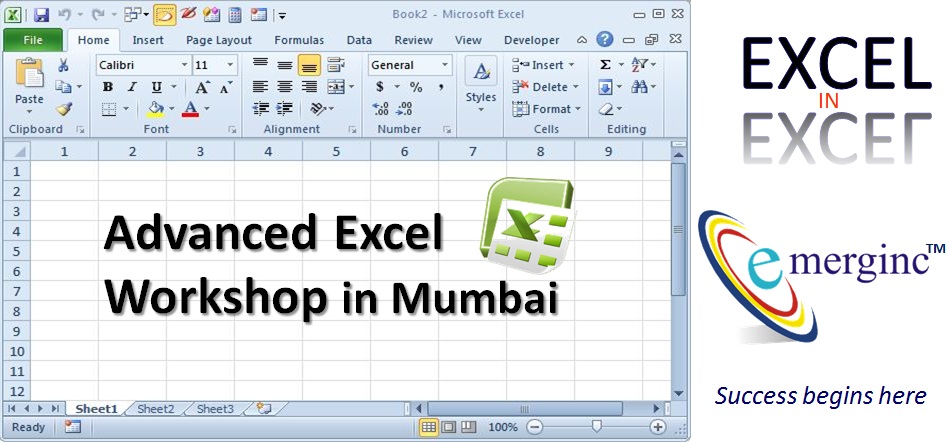 Emerginc presents a two-day open workshop on "Advanced Excel" on Friday, 5thJuly and Saturday 6th July, 2013 at Hotel Transit, Mumbai
Increase productivity by using Excel effectively, proficiently and efficiently
It has been observed that everybody in an organization uses Excel, from the receptionist to the MD of the Company though each one's requirement is different. Some people may have the view that the reports are anyway made by secretaries, then why should I bother to learn. Just imagine the plight of the person where some last minute changes (in formula may be) have to be made just before the presentation and the Secretary is absent!!!
Knowing Excel is like having a weapon with you. If you are a Junior, you can impress your peers and seniors with your skill set. On the other hand, you can extract better work from your juniors if you are skilled enough and also be in control of the situation.
People from all fields like Doctors, Pilots, Fund Managers, Bankers, Teachers, etc. definitely have benefited by learning Excel against the popular myth that it is meant for "finance people" only.
People regularly using Excel probably uses 3% of its features. Just using 6% of its utilities will double productivity. Imagine the benefits and the increase in efficiency!!
Common challenges faces by individuals in successfully using Microsoft excel.
Normally due to work pressures and deadlines people do not have the time to think about improving their spreadsheets, learning and using effective techniques etc. They copy paste the formula from earlier reports and prepare their reports without understanding why it is being done. In case there is a slight change in the raw data like a new product is added, an old client is deleted or an adhoc report is required, they are caught by surprise.
Learning from the workshop
You will learn,
Introduction to various tools available in the application which had probably never been explored due to time constraint and work pressure.
Introduction to effective ways of handling MIS reports.
Reports like monthly reports or weekly reports which took hours/days to make could be done effectively by participants in one tenth of the time and without mistakes by using excel features effectively.
The course will also attempt to explain why's of certain practices followed by participants without understanding the logic
Who can benefit?
Participants can be from virtually any level, but this workshop will be absolutely essential,
Anyone who works on Excel extensively.
They will be able to appreciate the techniques taught as they have been doing it the hard way and it will help them to better their efficiency
Workshop Sessions: A brief overview
It will be 2 day session. Each participant will have to get his/her laptop. The trainer will explain the concept and demonstrate the features. The participants will have to work on similar examples provided by the trainer and any doubt/problem will be solved by the trainer. It will be a practical session and not just a presentation.
Workshop Methodology
It will be a practical training.
Facilitator's Profile

Anuradha Rajan has worked with various corporates for over 8 years. She has worked with companies like Hindustan Unilever and Melstar in various capacities before starting training.
She is a certified Microsoft Certified Trainer for Office applications. Her areas of expertise are Microsoft Office products like Microsoft Excel & Access.
She been training clients like JP Morgan Chase, Prudential, Citigroup, DSP Merrill Lynch, 3G, Kotak Mahindra etc. on regular basis for last 8 years.
Some of her clients have even included her training as a part of the induction training programme module. She has also been invited by International Clients Like IFS Mauritius to conduct trainings for them.
She was formally trained in these applications by Aptech & SSI and has been associated with SSI as faculty for over 2 years.
For Registration Contact:
Ms. Shivani Jain on +91 77382 78316 or mail us on marketing@emerginc.in
Venue: Hotel Transit, Opp. Hotel Orchid, Domestic Airport, Off Nehru Road, Vile Parle (E), Mumbai
Date: Friday, 5th July, 2013 and Saturday, 6th July, 2013
Timing: 9:00am – 6:00pm
The investment: Rs. 11,000 + 12.36% S. Tax (Inclusive of Course Material, Breakfast, Lunch and Coffee/Tea)
Discounts:
Till 10th May 2013 Rs. 9,000 + 12.36% S. Tax
Between 11th May 2013 & 7th June 2013 Rs.10,000 + 12.36% S. Tax
Corporate Group Discounts – 5% (In case of nominations of 3-5 participants)
Corporate Group Discounts – 10% (In case of nominations of 6 or more participants)