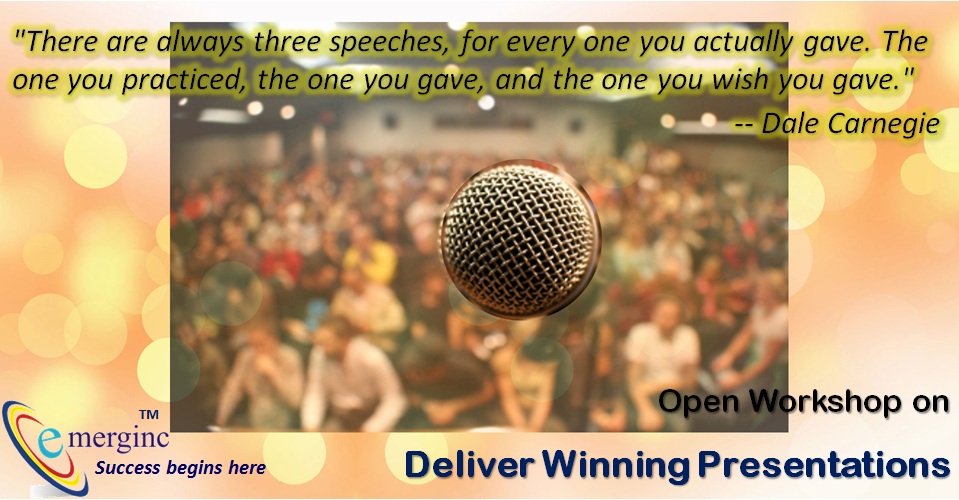 Emerginc presents one-day open workshop on "Deliver Winning Presentations"
on Thursday, 12th December, 2013 at Hotel Transit, Mumbai
Developed as a communication tool, presentations are remarkable because they allow extensive verbal communication even as they make a strong visual impact. They have become one of the best mediums to communicate ideas. For a presentation to be effective, you must get the Content, Design and Delivery right. It is an encouraging thought that just about anyone can learn the skills and techniques essential to bolster confidence and deliver winning presentations. Whether it is a sales pitch or a training initiative, presentation skills are the key to landing influential roles in today's business world.
Common challenges faced by individuals in successfully presenting a idea / proposal.
The challenges in delivering winning presentations are manifold. Can you,
Design clearly defined, well-structured presentations with information presented in a sequence most logical for your audience
Use powerful visual aids to supplement information
Create an interest among your audience and engage them throughout
Tackle nerves and create an impact with the audience
Close & summarize the presentation clearly and concisely with a view to meet your objectives
Objective of the workshop:
The workshop will equip you with expertise in delivering presentations effectively. The three areas of focus are:
Manage and organize the content
Design meaningful slides
Deliver with high impact
In addition, the workshop will help you-
To introduce in a manner that grabs attention and explains your objectives
To acquaint you with the three essential techniques for high impact - ENERGIZE, ENGAGE, ENTHUSE
To get ready for the audience – Pre-empt their response, anticipate questions and tackle them effectively
To find ways to tackle nerves and learn techniques to enhance your confidence
Who should attend?
Participants can be from virtually any level, but this workshop will be absolutely essential,
For anyone who deals with customers
For people working in teams and involved in team-decisions
For those whose work involves relationship building
How will it help?
To identify& plan the content for the presentation slides and use visual aids effectively
About tools to design simple, logical, clear and well-structured slides that are geared towards meeting your objectives
Techniques to counter nervousness and maintain a professional façade throughout the presentation
To read subtle non-verbal signals from the audience and adapt your presentation to keep themengaged
To avoid Common Pitfalls
To develop an animated, conversational style that can bring points to life
To improve your own body language and focus on creating positive non-verbal signals
To pace your presentation with effective speech and voice- modulation techniques
About Trainer: Ms. Beena Menon
Beena has worked with various corporates for over 19 years. She started her career as a software professional, developing customized software solutions for clients in India and abroad. She has held various responsibilities - Project Manager, Business Analyst and Client Manager. Subsequently, she has gone on to become a Corporate Trainer with a specialization in the area of 'Business Communication'.
She has covered a wide gamut of issues in communication in the course of her training, right from 'Basic Business English' to the role of communication and its complexities in 'Inter-Personal Relationships', 'Performance Counseling' and 'Customer Relationship Management'. An avid free-lance writer for several years, writing travelogues and designing web content, she also coaches people in 'Effective Business Writing' & 'High-Impact Presentation Skills'.
She has worked with middle and senior-level managers in several organizations like L&T, I-Flex Solutions, CapGemini, Datamatics, Raymonds and Nestle India, and has had long-term assignments with corporates like The Aditya Birla Group and PriceWaterhouse Coopers.
She also has over 4 years of experience working with several management schools as a visiting faculty, training students in 'The Influencing Power of Communication', which focuses on bettering the chances of selection during Interviews and Group Discussions.
As a certified Instructional Designer, she designs training curricula that adheres to specific corporate needs, imparting skills that are practical and easily transferrable to the workplace.
For Registration Contact:
Ms. Shivani Jain
marketing@emerginc.in / +91 77382 78316
Date: Thursday, December 12th, 2013
Timing: 9:00am – 6:00pm
Venue: Hotel Transit,
Opp. Hotel Orchid, Domestic Airport, Off Nehru Road, Vile Parle (E), Mumbai
The investment: INR 5,500 + 12.36% S. Tax
(Inclusive of Course Material, Breakfast, Lunch and Coffee/Tea)
Early Bird Discounts:
Till 1st November - INR 4,500 + 12.36% S. Tax
Between 2nd November, 2013 and 29th November, 2013 - INR 5,000 + 12.36% S. Tax
Corporate Group Discounts – 5% (In case of nominations of 3-5 participants)
Corporate Group Discounts – 10% (In case of nominations of 6 or more participants)